Surveillance grade storage solutions at RhinoCo Technology
Reliable hard disk drives & SD cards for your installs
Choosing surveillance grade storage solutions is crucial for any CCTV system as they are built for continuous 24/7 recording. At RhinoCo, we supply surveillance hard disk drives (HDDs) and microSD cards as they are designed to handle heavy surveillance workloads. Generally, they are more reliable, have higher write speeds and can be rewritten multiple times over without fail, more so than your traditional HDDs and SD cards that can be used in computers, phones and DSLR cameras.
Surveillance storage systems designed for 24/7 surveillance
Surveillance grade storage solutions such as those from Seagate and Western Digital are designed to always be active and operating 24/7 to store video evidence. These hard drives and SD cards are constantly being written on, unlike regular computer drives which operate intermittently. Thus, when choosing a storage solution for a CCTV install, it is important that you choose surveillance grade over standard retail options for better quality and increased reliability.
Specification

Use case scenario

HDCVI digital & Network video recorders
Internal & external computer storage
Workload Rate Limit
Up to 550 TB/year
55 TB/year
Specification

Use case scenario

Edge recording in SD compatible cameras
DSLR cameras, mobile phones and other small portable devices
Speed Class
UHS Speed Class U3 & Video Speed Class V30
UHS Speed Class 1
Important specifications to look out for
Here are some specs that make our stock of hard drives and SD cards, suited for your installs. To see the full list of specifications, click on any item listed here, and download the respective datasheet.
Hard Drives
Used for local storage
Formatted capacity: 2TB, 4TB, 6TB, 8TB, 10TB, 12TB, 14TB
Number of HD cameras that can be supported without interruption
Maximum sustained transfer rate OD (measured in MB/s)
Workload Rate Limit (WRL) - How many times can it be rewritten?
Mean Time Between Failures (MTBF) // The inclusion of RV Sensors
MicroSD cards
Used for edge recording
Formatted capacity: Up to 400GB // Form Factor (i.e: microSDXC)
Sequential Read & Write capabilities (measured in MB/s)
UHS Speed Class & Video Speed Class (min. sustained performance)
Terabytes Written (TBW) - How many times can it be rewritten?
Durability in weather conditions (weatherproof, humidity resistance)
Other things to consider when choosing a storage solution
There are a few key things to keep in mind when selecting either a hard drive or microSD card.
Quality: What is the resolution of the cameras and how many frames per second are they recording?
Archiving: How long does the footage need to be stored before it's rewritten?
The Scene: Not all scenes require a high resolution or high FPS to deliver sufficient results
Compression: The type of compression can either increase or decrease archiving capabilities.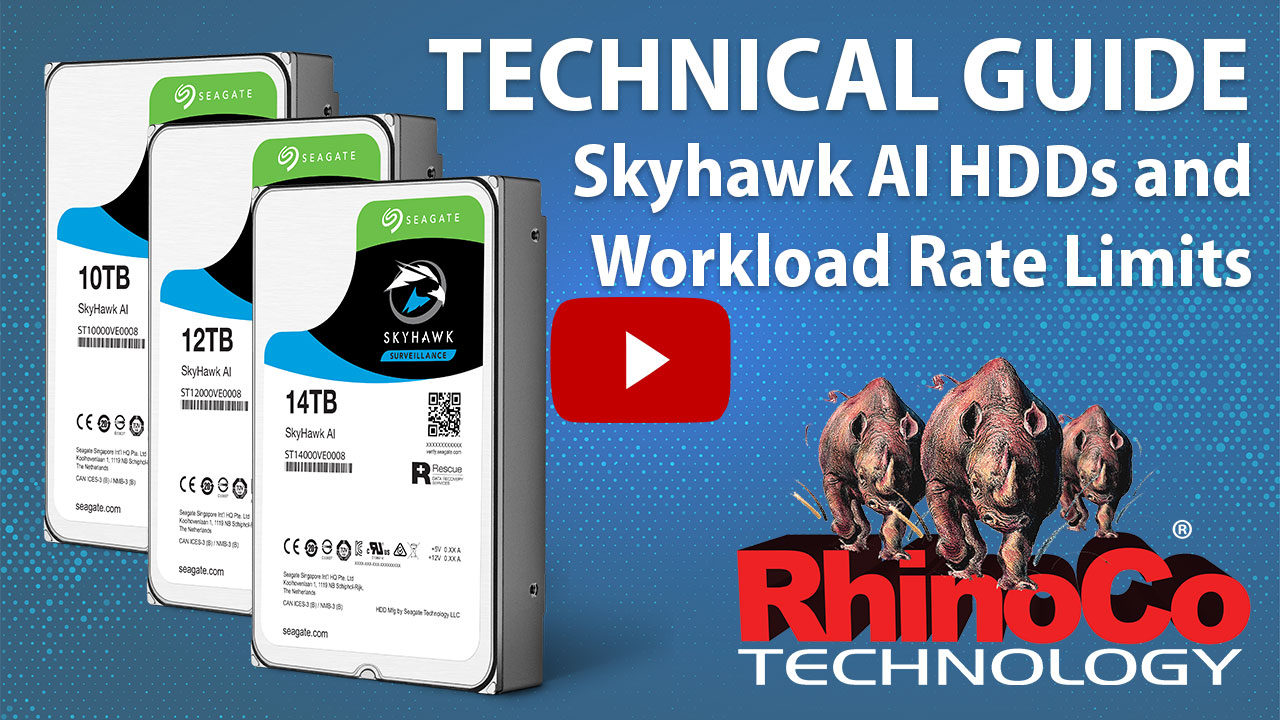 Watch the video of Jeff as he walks through the new Seagate AI HDD lineup and important specs to look out for when selecting a drive and sizing a system.
Need help sizing a hard drive?
Try using the HDD Calculator on our customer portal to see the hard drive size needed for each install. You'll need to have a trade login to access the site, if you don't have an account with us, get started with RhinoCo Technology today!
Note: HDD calculator is optimised to give accurate results for stocked RhinoCo cameras only. For help in Stationary/Mobile HDCVI CCTV & Mobile IP CCTV, contact your sales rep for further inquiries.